Categories
Categories
Brands
Brands
4" CL-42 CDT Audio 2-Way Classic Series Component Speaker System
4" CL-42 CDT Audio 2-Way Classic Series Component Speaker System
4" CL-42 CDT Audio 2-Way Classic Series Component Speaker System
Product Description
CDT Audio Classic Series 4" Component Set
CL-42 4" mid-woofer is so efficient, it can play much higher into the midrange frequencies above 11kHz.The cone of the CL-4 mid is made of a light yet rigid, mixed fabric carbon coated paper. The type cone material among audiophile listeners considered the best for sound quality





4" CL-42 CDT Audio 2-Way Classic Series Component Speaker System
1 pr CL-4 4" mid woofer
1 pr EX-540 24dB 4th/5th order 2-way crossover
1 pr TW-25 1" silk tweeter
Power handling: 130 watt RMS @ HPF 120Hz.
Frequency response: 70Hz-20.000Hz
Impedance: 4 Ohm Sensitivity:91.1dB
Mounting depth 4" woofer 2"
Flush and surface tweeter housings



CL-42 4" mid-woofer
CL-4 Mid/Woofer
4"
50 Watts RMS Per Channel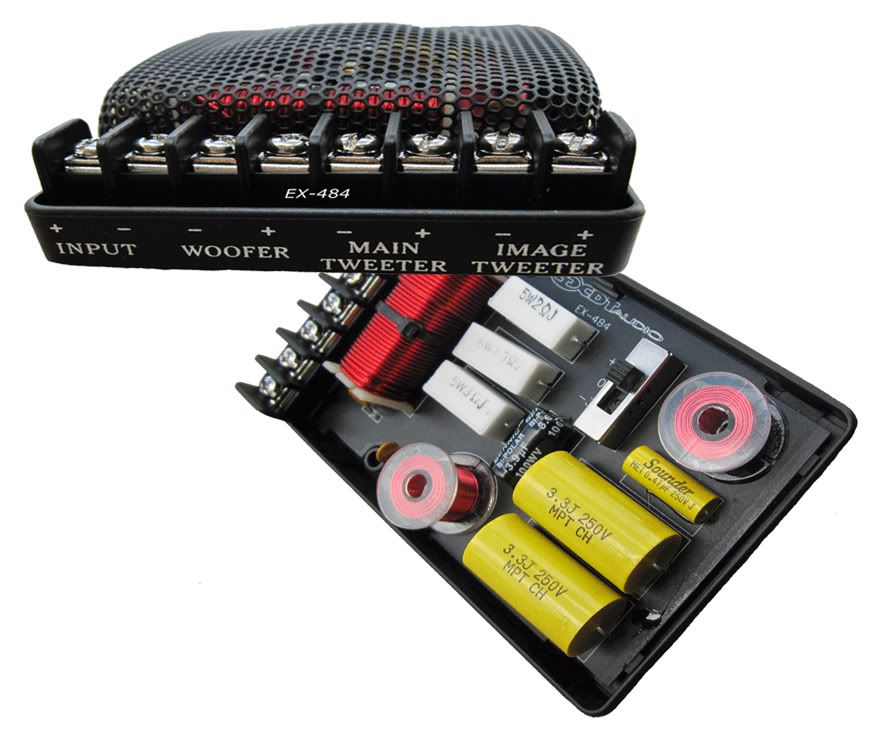 EX 540
Elliptic 2-way crossover

Technical specs and contents:

1 pr EX-540 4th order 24dB design
Image tweeter ready
Built-in tweeter protection
Built in tweeter attenuation + - 3dB
Engineering a perfect compliment to the highly acclaimed CDT drivers was an equally challenging task. "The Elliptic" crossovers, called SatNet, are an engineering breakthrough for car audio.

They use an ingeniously designed fifth order, elliptic type network that creates very distinct advantages over conventional "Butterworth" or "Linkwitz-Riley" passive filter topologies. This topology is so unique that this is the VERY FIRST TIME it has been used commercially in a car audio application.
EX-540 is a new design that provides the essential CDT Audio Elliptic xover topology in the most affordable package. The two-way crossover is composed of a 5th order elliptic high pass network for the Tweeter and first order butterworth for the woofer. Three Tweeter levels are selectable. Tweeter protection is provided. Crossover takes place at 4.3kHz. Mylar and film capacitors in the Tweeter network. This provides greater power handling and clarity..
This set use the smoothest silk Tweeter. Always gentle and forgiving, this Tweeter emphasizes the music and avoids noise and artifacts that may embed some source material or be characteristic of less than perfect amplifiers. Perfect for use with any kind mid woofer application. Very low listening fatigue. Neodymium magnet including surface and flush mounts.
CDTAUDIO designs and builds its drivers and crossovers to the very highest of standards. Years of experience and design flexibility yield higher quality and better performance. Quite simply, we produce "audiophile" sound, smoother response, wider dynamic range, and better imaging and higher reliability. Our incredible midbass and midrange drivers are flat to 7khz! That's 6.5-octave response!
This puts much less stress on the Tweeter, providing greater power handling and much better sound. Our special "Contoured Dispersion" radiation pattern in the critical midrange frequencies delivers rock solid imaging and front staging, with virtually no "side biasing."
The carbon treated paper cones offer ideal stiffness and damping. The curvilinear cone shape prevents cone flex and break up. This provides clean midbass even at higher levels. The always-critical midrange frequencies are clear and precise with no distortion from "ringing." The midbass/midrange drivers use real butyl surrounds, not merely a mixed butyl compound. This provides longer, more linear excursion, and a far longer life because it's UV resistant.
is so efficient, it can play much higher into the midrange frequencies above 11kHz.The cone of the CL-4 mid is made of a light yet rigid, mixed fabric carbon coated paper. The type cone material among audiophile listeners considered the best for sound quality
Product Reviews
Find Similar Products by Category
Customers also viewed