Categories
Categories
Brands
Brands
6.5" CL-642 CDT Audio 3-Way Component Speaker Set
Product Description
6.5" CL-642 CDT Audio 3-Way Component Speaker Set

6.5" / 4" 3-way component system is built to deliver the truest, in-car sound possible, the most accurate and natural performance ever-the type of performance that has earned our design team countless awards and unanimous praise from around the world.CL-642 3-way system bass response is deep very dynamic with great resolution.
The engineering design goal for CL 642: Deliver optimum HD sound quality with easy installation







6.5" CL-642 CDT Audio 3-Way Component Speaker Set
CL 642
6.5"/ 4" 3-way component system

Technical specs and contents:
1 pr CL-E6 6.5" mid woofer
1 pr CL-E4 4" mid woofer
1 pr EX-30 24dB 4th/5th order 2-way crossover
1 pr TW-25 1" silk tweeter
Power handling: 220 watt RMS @ HPF 120Hz.
Frequency response: 55Hz-20.000Hz
Impedance: 4 Ohm
Sensitivity:92.3dB
Mounting depth 6.5" woofer 2.75"
Mounting depth 4" woofer 2.1"
Flush and surface tweeter housings
CL-6 6.5" "Contoured Dispersion Technology"
6.5" mid-woofer is so efficient, it can play much higher into the midrange frequencies than almost ANY OTHER CAR SPEAKER! The cone of the CL-6 mid is made of a light yet rigid, mixed fabric carbon coated paper. The type cone material among audiophile listeners considered the best for sound quality. It's the professional installers favorite sound system to install.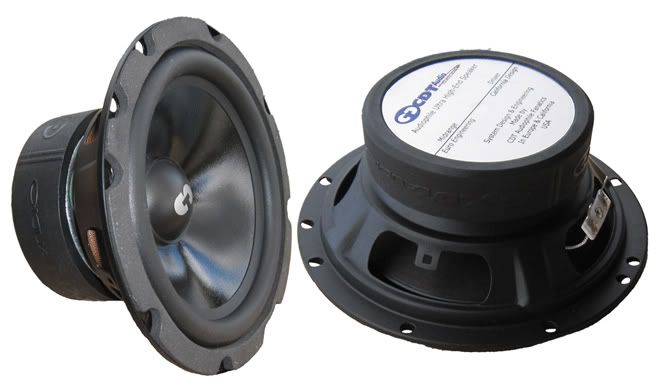 CL-E6 Mid/Woofer
CL-E4 Mid/Woofer
EX 30 (over $200 value)
Elliptic 3-way crossover

Technical specs and contents:

Mid-woofer EQ adjustable
Tweeter EQ adjustable
Built-in tweeter protection
This set use the smoothest silk Tweeter. Always gentle and forgiving, this Tweeter emphasizes the music and avoids noise and artifacts that may embed some source material or be characteristic of less than perfect amplifiers. Perfect for use with any kind mid woofer application. Very low listening fatigue. Neodymium magnet including surface and flush mounts.


Always look for the CDT Authorized Product/Dealer Seal!







The following dealers ARE NOT AUTHORIZED to sell CDT Audio products, nor can they provide CDT Audio warranty service

Audio Club
Car Audio Dealers
Dynamic Auto Sound
MSW - Mobile Sound Works
Techronics

Do Not Be MISLED
UNAUTHORIZED DEALERS:

a) Cannot offer factory warranty service on CDT Audio products, regardless of what they say or imply. If you do not buy from an authorized CDT Audio dealer, you do not have a CDT Audio warranty.
b) Cannot guarantee our most recent innovations, found only in the 2013 CDT Audio authorized product lineup.
c) May be offering discontinued versions of CDT product, refurbished, used, or otherwise distressed CDT Audio products, including products developed for overseas consumption, which may not be manufactured to the same standards as products intended for domestic consumer consumption.
CDTAUDIO designs and builds its drivers and crossovers to the very highest of standards. Years of experience and design flexibility yield higher quality and better performance. Quite simply, we produce "audiophile" sound, smoother response, wider dynamic range, and better imaging and higher reliability. Our incredible midbass and midrange drivers are flat to 7khz! That's 6.5-octave response!
This puts much less stress on the Tweeter, providing greater power handling and much better sound. Our special "Contoured Dispersion" radiation pattern in the critical midrange frequencies delivers rock solid imaging and front staging, with virtually no "side biasing."
The carbon treated paper cones offer ideal stiffness and damping. The curvilinear cone shape prevents cone flex and break up. This provides clean midbass even at higher levels. The always-critical midrange frequencies are clear and precise with no distortion from "ringing." The midbass/midrange drivers use real butyl surrounds, not merely a mixed butyl compound. This provides longer, more linear excursion, and a far longer life because it's UV resistant.
Product Reviews
Find Similar Products by Category
Customers also viewed