Categories
Categories
Brands
Brands
Oz Audio OzV-6.5S4 Vector Series 6.5" 300 Watt Single 4 Ohm Coil Subwoofer
Product Description
AUTHORIZED Factory Direct Dealer
Oz Audio is back – The Rebirth of a Legend – with a line of separate component and coaxial speaker systems along with a full line of amps and subs!!
OzV-6.52S4
6.5"" 300 Watt Single 4 Ohm Coil Subwoofer
6.5" Vector Series Single Coil Subwoofer 150 Watts RMS / 300 Watts Max

Mounting Depth 4" OPTIMIZED FOR SMALL SEALED, PORTED OR BANDPASS TYPE ENCLOSURES

1.99" Inside Diameter Voice Coil
Oz Audio was founded by audiophiles, engineers and musicians who set out to create the best sounding car audio speakers money can buy. Sparing no expense, utilizing physics, engineering, and scientific methodology, we created the Oz Vector Series "Hi Energy – Low Frequency Transducers". Based on the nature of today's digital music, the demand placed on bass drivers requires them to hit low and play loud for a long time without distorting! Today, our innovative approach to designing and building the best car audio subwoofers is alive and well in all of the hand-crafted Oz Audio Products..

FEATURES:
HYPER SURROUND FOR MAXIMUM LINEAR EXCURSION AND CONTROL OF CONE MOTION
ALUMINUM VOICE COIL FORMER COUPLED TO OUR PROPRIETARY BLACK CONE. THIS "TRANS-VECTION" TECHNOLOGY ENABLES THE CONE TO ACT AS A HEAT SINK FOR ADDED COOLING OF THE VOICE COIL
POWDER COATED BASKETS FOR INCREASED DAMPENING
"FLAT ATTACHED" CONE/SURROUND FOR IMPROVED RELIABILITY AND REDUCED DISTORTION AT MAXIMUM EXCURSION
RESIN-IMPREGNATED DUAL FLAT POLY-COTTON SPIDERS WITH SPACER RING
CUSTOM HIGHLY POLISHED, LASER ETCHED BACK PLATE
PRECISION CNC-MACHINED, LOW CARBON STEEL MOTOR STRUCTURE
EXTENDED COIL WINDINGS AND MATCHING TOP PLATES FOR INCREASED XMAX
DUAL 2-OHM AND DUAL 4-OHM VOICE COILS AVAILABLE FOR MAXIMUM INSTALLATION FLEXIBILITY
NICKEL PLATED SPRING LOADED PUSH TERMINALS REATAIN LARGE AWG WIRE
OPTIMIZED FOR SMALL SEALED, PORTED OR BANDPASS TYPE ENCLOSURES
OzV 6.5S4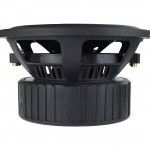 Product Reviews
Find Similar Products by Category
Customers also viewed