Categories
Categories
Brands
Brands
Q-FORMS Kick Panel Speaker Mounts by Q-Logic FREE SHIPPING!
Q-FORMS Kick Panel Speaker Mounts by Q-Logic FREE SHIPPING!
Product Description
Q-FORMS Kick Panel Speaker Mounts
by Q-Logic
FREE SHIPPING*!

Q-Forms are replacement kick panels that have molded in speaker mounting locations to house the high quality speaker system of your choice. Each Q-Forms panel is custom designed to be a direct replacement for the factory panel in your car, truck, or SUV. They are available in every factory color originally offered for your vehicle, as well as black.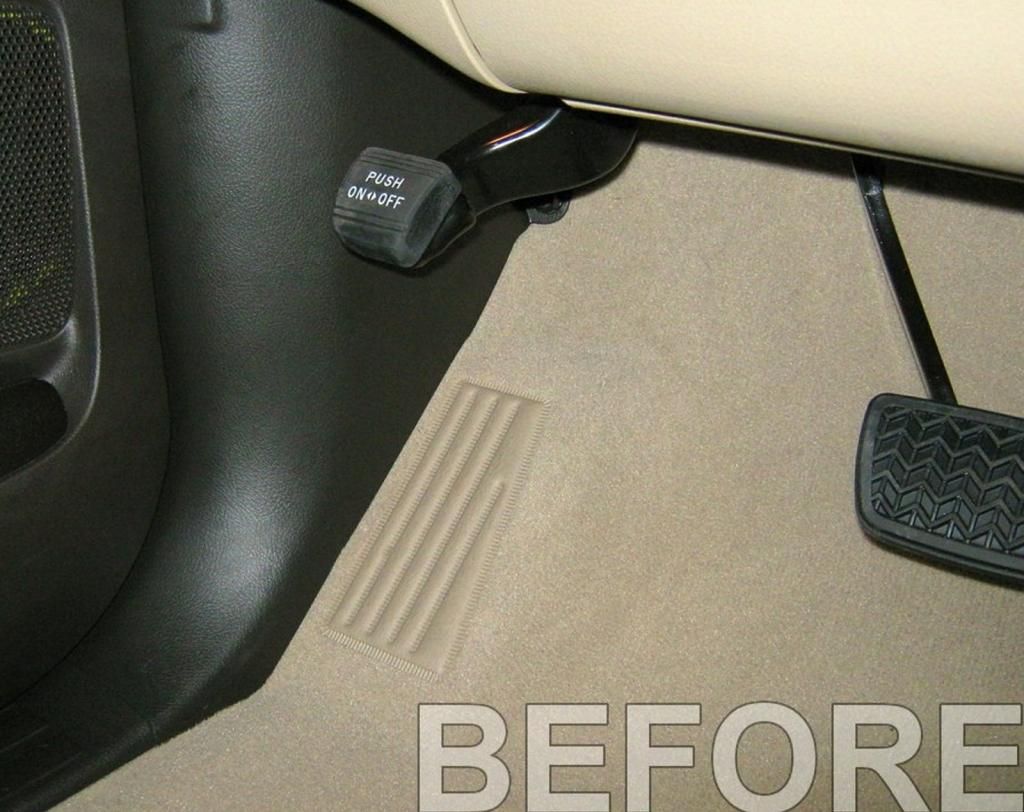 Q-Forms are sold in Pairs.
Q-Forms panels do not include speakers, and come in 2 different styles:


Ensure availability for your vehicle by checking our

Then make your model selection at the top of the page

KICK PANEL SPEAKER MOUNTS
Custom matched to your car / color

Put speakers where you thought you couldn't
FREE & FAST Shipping!
*NOTE: HI and AK must select USPS service
Even though these are CUSTOM items, most kick panel orders are in transit to you within 2 days!
No custom model available for your car? Try a UNIVERSAL Kick Panel Pod
Q-FORMS Kick Panel Speaker Mounts
by Q-Logic
FREE SHIPPING*!



What is the difference between the "C" series mounts and the "B" series mounts? "B" series is made for component systems with a 5.25" woofer . They come with matching grilles. BOTH B & C series hold up to a 2" tweeter. BOTH B & C series come in vehicle matching colors. "C" series is made for 6.5" woofers. They do not come with grills

Style C (Most Popular)
Notice the surface for the woofer is flat. Install up to a 6-1/2" woofer using woofer supplied grill and tweeter. Cut holes for your woofers and tweeters according to specifications as the size varies with manufacturers. This series has 1/2" deeper mounting space available to accommodate larger and deeper magnet structures
With Q-Forms, each speaker is located and angled to maximize sound quality. The theory is that the distance between your ears and each of the speakers should be equal. With your speakers in the kick panels, it's like sitting in that "sweet spot" at a concert or right between your home speakers


Note: The Q-Forms do not come with pre-cut holes, so you must cut holes in order to install your component speakers in the enclosures. Installing the Q-Forms panel enclosures in your vehicle may require relocation of the parking brake pedal or other vehicle parts.
Already have a Q-Logic Enclosure and Subwoofer system? The next step is to upgrade your speakers. But first, we need to clarify one thing. Stock speaker locations are not the ideal. In most vehicles, the speakers are mounted in the doors and fire directly into your leg. Here's something to think about. Whether it's a Home or Car Audio store, when you go to listen to any speakers, they are always aimed directly at you. You are "On Axis" with the speakers. Speakers are engineered to Sound and Perform Best, when you are On Axis. Once they are installed in the doors of your vehicle, you are now "Off Axis," because the speakers are no longer aimed directly at you. Therefore, the ONLY time you get to hear your speakers, as they were designed and engineered to sound, was at the Store when you bought them. Does that sound right? Not at all!
The addition of a pair of Component Speakers, in a set of Q-Form kick panels, puts you back On Axis with your speakers and back in the "Sweet Spot" for great, concert-quality Sound. Hopefully, this makes sense. If not, please visit a Home or Car Audio Store, stand On Axis with the speakers, then turn or stand Off Axis and listen. The difference is Amazing



Included in Box
All mounting fasteners, hardware and trim pieces.
Complete installation instructions.


Why this location?
The idea of locating speakers in the kick panel area dates back to the hey-days of organized sound-off competitions. The best way to understand why competitors began to locate speakers in the kick panel areas is to consider the difference between listening to music in your vehicle versus listening from the comfort of your sofa. In the drivers' seat of a vehicle, you are to the far left of a pair of stereo speakers mounted in the doors or the dashboard of the vehicle. Contrast this to sitting in the "sweet spot" on your sofa, equidistant between a pair of properly toed-in stereo speakers!
Obviously, your sofa offers a more ideal listening position. This central position allows the sound from each speaker to arrive at the listener's ears at the exact same time. A really good pair of properly set up home audio speakers will allow one to hear the vocals and instruments exactly as the recording engineer intended, as well as their locations within the soundstage – both left and right and from front to rear. In some cases, the speakers can seem to disappear, giving one the impression of being there! The term to describe proper localization of instruments and vocals within the soundstage is called "imaging" – and this is one of the most difficult things to achieve in an automobile.


No Grilles: No grilles are included with the Q-Forms C-SERIES, you must use the grilles supplied with the component system. In some cases, the grille could slightly overlap the mounting surface for the woofer. In this case the cutout can be made so any overlap occurs at the back bottom edge where it will not be visible.




.
Product Reviews
Find Similar Products by Category
Customers also viewed